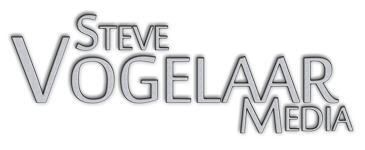 Ultra Precise Media Production
Steve Vogelaar Media has been providing high-quality media production for over 25 years.
High quality graphics & video are a necessity for your online presence and for your print / digital marketing.
You can trust your media production to us.  Experts in Photography/Videography, PhotoShop and Video Editing, we make your photo's or video stand out in the crowd. 
Steve Vogelaar Media and IT Oversight are your one-stop shop for all your media and promotional needs.
For more information, please send your request to steve@stevevogelaar.ca, or fill out the easy request form.
NEED MUSIC?
DJ Striker is here for your all of your entertainment needs.
With 35+ years experience DJ'ing clubs, weddings and party's, your event is sure to be a great success.
Entirely computerized, I bring all 40,000+ songs in my library to cater to every taste in music, from every decade from the 1950's right up to the latest music on the radio today.  Whatever genre you desire, I have ample country, rock, oldies, alternative, dance, reggae/soca, latino to keep all your guests happy and dancing.
I am always happy to take requests when appropriate, and on the very slim chance I don't have the song, I can purchase and download it right then and there.  Having the necessary music is imperative and is never a problem.
Want lighting, a smoke machine or any other extra's; not a problem.  As much or as little as you require, it's up to you.
Would you like more information?  Contact me at djstriker@stevevogelaar.ca or fill out the easy information request form.